Sold by weight
Is a very fragrant natural product found in the woods and is used in special occasion menus. The diamante bianco (white diamond) found in Umbria in Autumn is eaten raw finely sliced on pasta, rice, cheese, meat and as the final touch in gourmet dishes. Indispensable in cheese fondues and an absolute must on porcini or ovoli mushroom salads.

send a mail

COD. T2
WHOLE WHITE
TRUFFLE IN A JAR

g. 25
Euro 49,00
Allows one to appreciate the white truffle's excellent aroma and taste all year round as it is perfectly preserved in its own liquid that can also be used as a condiment.

click to order

COD. T21
SLICES OF
WHITE TRUFFLE
g. 50
Euro 46,90
In truffle oil prepared by Alfonso Fortunati and family who have for more than twenty years competently and successfully searched out and packaged white and black truffles at their firm in Campello sul Clitunno. Slices of white truffle are an excellent substitute for fresh truffles and can be used in many different ways all year round.

click to order

g. 50
Euro 44,00
Is less expensive than whole truffles and easier to use for preparing hot or cold canapés and for serving with rice or pasta. This exceptional puree consists of only natural ingredients that include white truffle, olive oil and salt.

click to order

COD. T5
WHITE
TRUFFLE IN
OLIVE OIL
ml. 100
Euro 6,90
An olive oil and truffle condiment boasts a very strong flavour and aroma and is easy to use completing the finest recipes or rendering even the simplest like the bruschetta (toasted slices of bread with oil and garlic) appetizing.

click to order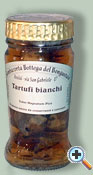 COD. T2 bis
WHOLE
WHITE
TRUFFLE
IN A JAR
g. 50
Euro 97,00
Like the description at code T2 but in a larger jar.

click to order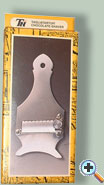 COD. T12 STAINLESS STEEL MEAT SLICER
each Euro 15,90
A manual meat slicer for fresh truffle, chocolate, and vegetables. The thickness for cutting can be regulated, it is made exclusively with material that is safe to cut food.

click to order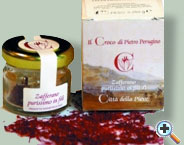 COD. CR25 PURE SAFFRON IN THREADS
g. 0,25 € 12,90
To the saffron, cultivated to City of the Parish since the XIII century, the proprietorships are attributed of not only to dye, cosmeticses and gastronomic but also exceptional such medicinal ownerships to be made a panacea for all the illnesses.

click per ordinare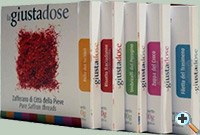 COD. CR125 PURE SAFFRON IN THREADS
g. 0,50 € 26,00
Same quality and characteristics of the code CR25 but in five enough wrappings each to season 4/5 portions of pasta or laughed. On all the containers numerous traditional recipes are described to base of saffron.

click per ordinare