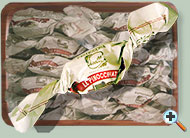 COD. D4
PINOCCHIATE OF PERUGIA
Available from half November to March / April
g. 70
Euro 3,90
An unusual preparation of sugar, pine-seeds and cocoa, produced only in the province of Perugia, it is a typical winter sweet available until January. It not resemble any other kind of sweets and there is nothing like it on the market. It should certainly be tried.

click to order
COD. D3
BISCUITS OF
PUFFED SPELT
AND BISCUITS
WITH BLACK TRUFFLE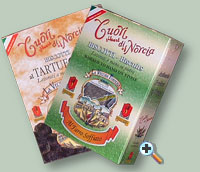 two packets g. 500
Euro 12,80
Puffed spelt, fine milk chocolate and sugar, principle ingredients of these simple, pleasant, lightly flavoured nourishing biscuits. Black truflle of Norcia is delicious component for truffle biscuits.

click to order
g. 400
Euro 7,90
An imaginative and delicious creation containing chocolate and pieces of black truffle. An absolute delight.

click to order
g. 300
Euro 7,90
Pampepato is made with almonds, candied fruit, honey and grains of black pepper a pleasant combination of sweet and hot flavours to accompany and be eaten with a good Passito wine.

click to order
g. 300
Euro 7,90
Pangiallo has a unique characteristic, the use of maize flour together with almonds, candied fruit and honey. The flavour is rich, delicate and reminiscent of simple, ancient Umbrian recipes.

click to order
g. 300 € 7,90
Panforte of confectionery with ingredients principal almonds and candied fruit, handmade produced the whole year with traditional methods.

click to order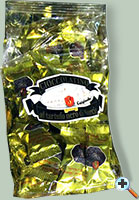 COD. D6
BLACK TRUFFLE
CHOCOLATES
g. 300
Euro 15,90
A simple, ancient Umbrian sweet bread, enriched with sultanas, to enjoy with a cup of tea at breakfast or as a dessert.

click to order


COD. D10
TORRONE
WITH TRUFFLE
g. 400 € 14,90
A nougat of confectionery with filberts, cocoa and black truffle of Norcia, produced with handicraft method in Valnerina, it unites to the classical ingredients of the nougat the perfume and the taste of truffle.

click to order
COD. D9
CHOCOLATE AND
WHITE TORRONE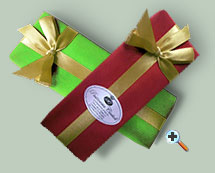 g. 600 € 12,90
Torrone a handmade, confectio- nery product of carefully selected ingredients, originally white and chocolate in slices of 2 x 240 gr.

click to order