g. 250
Euro 6,90
Little gourmet pastries of soft almond paste, flavoured with pistachio and covered with a thin layer of toasted almonds.

click to order
g. 300
Euro 4,30

Almond Tozzetti well known and enjoyed in central Italy, these cookies containing whole almonds go well with tea or a good Passito as dessert.

click to order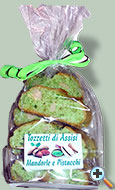 COD. D20
ALMOND
TOZZETTI
WITH
PISTACHIO
g. 250
€ 3,90

Tozzetti with almonds and whole filberts as the cod. D2 but with the addition of pistachio for a richer taste pleasantly. According to the tradition they are tasted with vinsanto or with the thθ.

click to order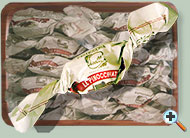 COD. D4
PINOCCHIATE OF PERUGIA
Available from half November to March / April
g. 70
Euro 3,20
An unusual preparation of sugar, pine-seeds and cocoa, produced only in the province of Perugia, it is a typical winter sweet available until January. It not resemble any other kind of sweets and there is nothing like it on the market. It should certainly be tried.

click to order
COD. D3
BISCUITS OF
PUFFED SPELT
AND BISCUITS
WITH BLACK TRUFFLE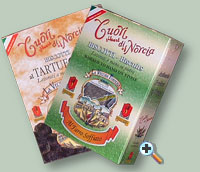 two packets g. 500
Euro 12,80
Puffed spelt, fine milk chocolate and sugar, principle ingredients of these simple, pleasant, lightly flavoured nourishing biscuits. Black truflle of Norcia is delicious component for truffle biscuits.

click to order
g. 400
Euro 7,90
An imaginative and delicious creation containing chocolate and pieces of black truffle. An absolute delight.

click to order
g. 300
Euro 7,90
Pampepato is made with almonds, candied fruit, honey and grains of black pepper a pleasant combination of sweet and hot flavours to accompany and be eaten with a good Passito wine.

click to order
g. 300
Euro 7,90
Pangiallo has a unique characteristic, the use of maize flour together with almonds, candied fruit and honey. The flavour is rich, delicate and reminiscent of simple, ancient Umbrian recipes.

click to order
g. 300 € 7,90
Panforte of confectionery with ingredients principal almonds and candied fruit, handmade produced the whole year with traditional methods.

click to order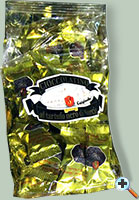 COD. D6
BLACK TRUFFLE
CHOCOLATES
g. 300
Euro 15,90
A simple, ancient Umbrian sweet bread, enriched with sultanas, to enjoy with a cup of tea at breakfast or as a dessert.

click to order


COD. D10
TORRONE
WITH TRUFFLE
g. 400 € 14,90
A nougat of confectionery with filberts, cocoa and black truffle of Norcia, produced with handicraft method in Valnerina, it unites to the classical ingredients of the nougat the perfume and the taste of truffle.

click to order
COD. D9
CHOCOLATE AND
WHITE TORRONE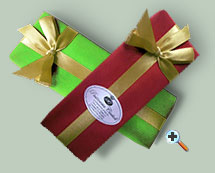 g. 600 € 12,90
Torrone a handmade, confectio- nery product of carefully selected ingredients, originally white and chocolate in slices of 2 x 240 gr.

click to order

COD. MM22 CHESTNUT IN LIQUEUR
g. 470 € 9,90
Whole chestnuts prepared in the a little alcoholic liqueur, with the addition of natural aromas. They are soft and they are accompanied with ice creams and cold dessert, they are alone also good.

click to order
---

COD. MM21 CHESTNUT IN SYRUP
g. 470 € 8,90
The pleasure to taste the chestnuts in every period of the year, preserved in the vase with their juice. They is a delicious dessert, excellent for the panna cotta, for the ice cream or alone with some cream. Closed they are preserved to room temperature, after open in the refrigerator.

click to orderc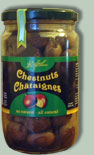 COD. MM24 NATURAL CHESTNUT
g. 420 €8,90
The chestnut, is of great importance in the feeding, comparable to that of the integral bread, it should enter our daily feeding thanks to the elevated content of starchy substances that contains and of the good quantities of proteins, vitamins and mineral salts. The chestnuts can also be consumed raw, but they are more pleasant to the palate if you boil or prepared as caldarroste.


click to order