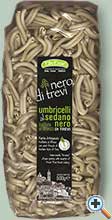 COD. P11 Pasta to the black celery of Trevi
Handicraft pasta, drawn to the bronze, enriched with fresh hearts of black Celery of Trevi. The Umbricelli can be seasoned with garlic, oil and chilli pepper or with Piccantissimo & Profumatissimo di Assisi. Exceptional if seasoned with the sauce of "Black Celery of Trevi and Sausage." The quantity of a package is enough for 5/6 portions.
g. 500 Euro 3,95

click to order


g. 500
Euro 4,95
Like the description at code P 1 but summer black truffle is added to the pasta dough. Exceptional if served with oil and grated cheese and incomparable if slices of truffle are added. A packet is sufficient for 6/7 helpings.

click to order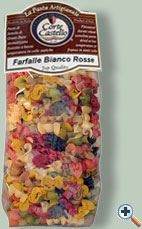 COD. P6
HOME MADE
VEGETABLE PASTA
g. 500
Euro 3,95
Home-made pasta produced by Julia of Spello with hard grain semolino and eggs with the addition of tomatoes, beet, spinaci, curcuma and sepia. A packet is sufficient for 6/7 helpings.

click to order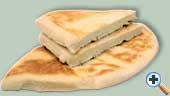 COD. P7
COCKED BREAD
ON THE "TESTO"
g. 300 ca.
Euro 2,70
(at kg. Euro 9,00)
E' cooked bread on the testo
it is the ancient bread done in house cooked on the hearth above a rotunda stone said text. Prepared with flour, water and little salt it is used to serve it warm with stuffed boiled vegetables and heat with sausages roast. Still produced according to tradition it is manufactured in atmosphere modified for a long maintenance. Excellent also served warm stuffed with the raw ham.

click to order

COD. P8
UMBRIA'S BREAD
WITH CHEESES
g. 450 ca. Euro 7,50
(at kg. Euro 16,60)
This bread with cheese, said Torta di Pasqua, is in Umbria the traditional bread of the breakfast Pasquale. Tastes together with the capocollo, to the salami coralline, to the firm eggs, the all accompanied by the typical wine Vernaccia of Cannara. It is prepared with flour, eggs and so much cheese - grated or to bits -The production of theTorta di Pasqua, that was always limited a Week Saint, happens the whole year to satisfy the request of the estimators. It is sent affected and manufactured in atmosphere modified for preserving it fresh many days.

click to order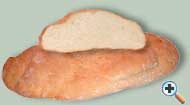 COD. P9
TRADITIONAL
BREAD BAKED
IN WOOD
g. 2.000 ca.
Euro 9,80
(at kg. Euro 4,90)
The traditional bread of Umbria, produced with flour, without salt, cooked on ovens with fire of firewood. It maintains fresh many days if preserved to the shelter by the air. It is the ideal to prepare the bruschette or to taste together with the umbrian salami, generally well tasty. Stale of a few days are better than fresh.

click to orde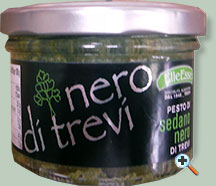 COD. S111 SAUCE (PESTO) WITH BLACK CELERY FROM TREVI
g. 200 ca. Euro 6,90
Trevi black celery is a unique product in the world, grown by a few expert farmers in the Clitunno valley, according to traditional techniques unchanged over the centuries: black celery pesto captures its strong and singular flavor: perfect for the preparation of canapés and bruschetta, and for seasoning first courses: ideal pairing with Umbricelli with black celery from Trevi.
click to order